Datasheet Sequans Communications Monarch NB02S — Даташит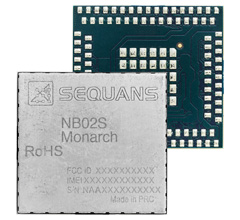 NB-IoT Module Enabling Next-generation 5G Massive IoT
Datasheets
Product Breif Monarch NB02S
PDF
,
6.3 Мб
, Язык:
анг.
, Файл закачен:
21 окт 2019
, Страниц:
2
EZLinkLTE Monarch NB02S Module. NB-IoT Module Enabling Next-generation 5G Massive IoT
Цены

Подробное описание
The Monarch NB02S is an LTE Cat NB1/NB2 module based on Sequans' second generation Monarch N chip platform.
NB02S leverages Sequans' 15-plus years of experience in 4G and 5G technologies and incorporates Sequans' carrier-proven LTE protocol stack and a software suite that is one of the most mature in the industry. The NB02S is the first member of Sequans next generation "S" family of modules, featuring a very small yet cost-effective form factor that requires no external components. The NB02S inherits Monarch's already certified NB-IoT stack and delivers the significantly improved performance and lower power consumption enabled by Sequans' second generation Monarch N chip and the new module architecture. NB02S is a total module solution, including a complete, Single-SKU™ RF front end for deployment in any band worldwide, and an integrated EAL5+ Secure Element (SE) enabling the integration of the SIM inside the module with zero compromise on security while lowering cost and reducing complexity. Sequans technology, both hardware and software, is 100-percent owned by Sequans, ensuring fast time to market and lowest total cost of ownership for device makers.