Datasheet Broadcom HCPL-181 — Даташит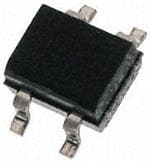 DC-Input Lead Free General Purpose Phototransistor Optocoupler
Datasheets
Datasheet HCPL-181
PDF
,
828 Кб
, Язык:
анг.
, Файл закачен:
18 янв 2020
, Страниц:
8
Phototransistor Optocoupler SMD Mini-Flat Type
Цены

Подробное описание
The HCPL-181-000E optocoupler contains a light emitting diode optically coupled to a phototransistor.
It is packaged in a 4-pin mini-flat SMD package with a 2.0 mm profile. The small dimension of this product allows significant space saving. The package volume is 30% smaller than that of conventional DIP type. Input-output isolation voltage is 3750 Vrms. Response time, tr, is typically 4 ms and minimum CTR is 50% at input current of 5 mA.
Features
Current Transfer Ratio (CTR: min. 50% at IF = 5 mA, VCE = 5 V)
High input-output isolation voltage (Viso = 3750 Vrms)
High collector-emitter voltage (VCEO = 80 V)
Response time (tr: typ., 4 us at VCE = 2 V, IC = 2 mA, RL = 100 Ohms)
Mini-flat package (2.0 mm profile) in tape and reel package
UL approved
CSA approved
IEC/EN/DIN EN 60747-5-2 approved
Options available are:

060E = IEC/EN/DIN EN 60747-5-2 Option
00AE = Rank Mark A
00BE = Rank Mark B
00CE = Rank Mark C
00DE = Rank Mark D
Модельный ряд
Серия: HCPL-181 (10)
Классификация производителя
Optocouplers and Opto-Isolators > Industrial Plastic > Other Products > Phototransistors